You will never be completely at home again, because part of your heart always will be elsewhere. That is the price you pay for the richness of loving and knowing people in more than one place." ~ Miriam Adeney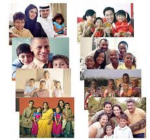 You will never be completely at home again, because part of your heart always will be elsewhere. That is the price you pay for the richness of loving and knowing people in more than one place." ~ Miriam Adeney
While their time in their respective countries may be coming to an end, the lessons learned, the friends and family made, and the experiences they've had will never be forgotten. I asked one of the saddest questions thus far; I could tell by the enormous amount of sad emoji faces and replies telling me they didn't want to think about it!
What are you going to miss the most after returning home?
Serena: What I'll miss most is my family and my friends. I created some connections and made some friendships here that I will dearly miss when I go home! I love the so much and I can't believe that this year is almost over!! ? ?
Davíd: What I'll miss the most when I go back to Colombia is the a/c. My city has a pretty nice weather. But when it doesn't rain for some days it gets very hot. It's better to stay outside with some wind that inside the house. After that, I'll miss my friends from school. All of them are pretty cool and kind with me.
Sofia: I will miss the way of life here; the way many people seem to live at ease in the present while simultaneously being connected with the earth in a way which I have not experienced in my time or my situation in Louisiana. I think the respect and appreciation of time is different in this culture, and that is something that I can't quite put into words, but I know for sure that it is an aspect which seems to be lacking in the everyday culture in the USA, and it is something I will really miss. I will miss the taste of Romanian mustard, the taste of apples from the garden (ESPECIALLY the homemade apple juice), and the pork here, which is actually amazing. I will miss being able to walk places in my city or use public transportation to get around. I will miss using cheap and easy-to-manage trains and buses to visit friends on the weekends. I will miss cheap street food, like pretzels, pies, and other little sweets that can be purchased on the street for less than a dollar a piece (I will miss the cheap prices of food in general)! I will miss a lot of things about this cool, old, strange but beautiful-in-its-own-way country that has really, really grown on me in this past year.
Ruthie: There are so many things and aspects about Thailand I'm going to miss. Maybe what I'll miss the most is my host family and friends. They're so dear to my heart and they've made exchange so much brighter. I've gotten so used to living with them and seeing them frequently; I think I'm gonna feel like I lost a limb when I have to start living without them.
The next thing I'll miss so much are the markets. The markets in Thailand are astounding and sell everything from dinner's greens to cheap clothes or good quality hand made items. The markets are super convenient and cheap, and even night markets constitute as another fun place for friends to hang out. I've never seen anything like a night market in the U.S. before so I'm already prepared to know I'll have to visit Thailand again if I want to go to one, haha!
Another thing I'll miss is the food! Authentic Thai food is exceptional! There are recipes I've been able to get from my family so I can hopefully replicate the dishes back in America, but I know even then it won't be exactly the same.
Two specific groups of food I think I'll miss more are the fruit and the drinks. In Thailand I've been introduced to so many different fruits I'd never even seen before and they taste so good! I'm not sure if they can be bought in America (I think so?), but I have the fear they won't taste exactly the same.
I'll also miss the drinks, specifically Thai tea and bubble tea! I know you can get bubble tea in America (maybe also Thai tea?) but what I'm going to miss about these drinks in Thailand is how cheap and easy to get they were. Usually bubble tea is expensive or you have to go to a specific city to get it, and I think one of the only ways one could get Thai tea is by going to a Thai restaurant. I've told my host parents how much I'll miss the drinks and they keep encouraging me to open my own Thai tea and bubble tea shop in America, so maybe I'll do that haha!
There are a bunch of other small things about Thailand and Thai culture that I'll miss, but then the list would get boring and arduous. Anyway, so what I'll miss the most from Thailand is my family and friends, the night markets, the authentic food, and the fruit and teas.
Felice: The real question should be what WON'T I miss.
I never want to live in a place without mountains, now that I know how gorgeous they are. Fresh coffee made from the farm a few minutes away is a blessing. United States parties will seem so boring without dancing.
But there is not a single doubt that the one thing I will miss most is the people. I have met so many friends here who have touched my life. I didn't know it was possible to grow so close to people in such a short amount of time, especially given a language barrier, but I have made best friends here. I can't imagine leaving these wonderful people who have shown me their country and culture, who have picked me up when I was feeling sad or homesick, who have taken me to coolest places in my city, who spend thirty minutes a day helping me with physics homework so I don't have a breakdown, and who have incredible conversations with me despite my many grammatical errors. I am so lucky to have found such amazing people in my city, and leaving them will be heartbreaking. However, I am already planning a return trip to visit them, and they know they are always welcome to stay with me in New Orleans.
Chawin: I am going to miss my (host) family the most. My family is everything to me. Ashley is always there when I need someone. I can talk to any topics with her. Jeremy always has smart and wonderful views and he always gives me advice. Hailey and Reese are the sisters I never have in my life. I only have one host family but I do not regret it. This family gave me everything. I fell like home since the day I have arrived. I have been many places, tried a lot of new foods, met different people. I have learned a lot and I cannot thank enough to this family.
I can promise you one thing; I'll dearly miss getting to know these countries through their words. It's amazing the perspective you gain on your own life when reading about someone else's. We've got one more question next month before they all return home – well minus the mini vacations some are going on! I'm thinking of meeting our returning three at the airport with a big sign that says, "YOU'RE ARTICLE WAS DUE YESTERDAY!" We'll see ??